Newspaper Archive Records Indexing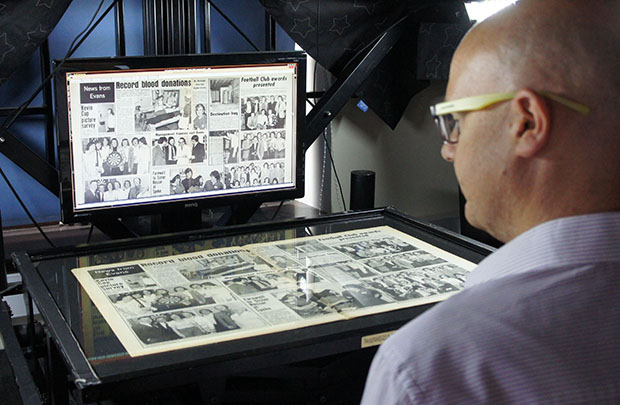 247Digitize has been engaged to provide an array of services in support of an immense back file conversion effort. The scope of work for this project involves rolling deliveries of unitized and indexed files to be uploaded into the client's revamped database allowing them to shred historical records thereby freeing up valuable office space.
About our Client: The client has been recognized on the Inc. 5000 list of the nation's fastest growing companies for four consecutive years. They are industry experts, introduced transformative solutions to thousands of the world's best known brands, and created tens of thousands of career opportunities. They offer extensive service capabilities in Traditional Onsite Outsourcing Services, Outsourced Hospitality, Front/Back Office Outsourcing Services, Facilities Management Services, and Outsourced IT Support Services. Their client is an internationally known, venerable news organization.
By the Numbers…..
Estimated 2,100,000 pages in the collection
>250 sq. ft. of office space required for records storage
~$75 per sq. ft. per month in the current real estate market
Estimated potential savings of $20,000 per month on saved space alone
Challenge: The client reached 247Digitize to coordinate with their in-house facilities management team to perform unitization and indexing services on a large collection of historical records dating back to the 1940s. The records for conversion came from multiple departments with differing data capture requirements to facilitate future digital searches. In addition, the client wished to merge existing data from a legacy library with the new data collected during the indexing process. As this was a competitive bid situation, 247Digitize and our partner were tasked with demonstrating a firm understanding of the client's requirements through a pilot which would be judged in awarding the contract.
Solution: 247Digitize dispatched a domestic Project Manager to travel on-site to work directly with the parties to clearly define the scope of the pilot. Significant time was spent with decision makers to ensure their requirements would be fulfilled based on our suggested approach and refined based on their feedback. Information from those meetings was meticulously transmitted back to the project team who then integrated the updates. Prior to live processing, additional on-site consultations were held with stakeholders of each of the departments to customize capture requirements based on varying subject matter. Since the paper records were to be destroyed at the end of the project, it was critical that they be assured that digital retrieval would be successful and efficient going forward. Behind the scenes, 247Digitize also collaborated with their partner to streamline scanning and transmission protocols and provide consolidated deliveries for more efficient data loads into the document management platform. The Quality team played a pivotal role by providing concise guidance to production staff guaranteeing consistency in the final product.
Results: 247Digitize continues to work in close conjunction with both our partner as well as the end client to provide a seamless delivery over time. The upfront investment made by the client to digitize their records will reap immediate rewards in terms of freeing office space with additional benefits in efficient retrieval realized in the future.