247Digitize (formerly Kensium) is an ISO-certified organization. We assist businesses by building, reviewing, and managing the contract lifecycle framework which results in securing and managing clients' interests. The outreach of our services is extended to various sectors like Healthcare, Information Technology, Real Estate, Finance, etc.
We help our clients in attaining their objectives of:
Enforcing compliance by conducting audit trails
Managing obligations
Tracking/Locating Contracts
Reducing contract risk and litigations
Leveraging business-specific critical information
Enhancing business performance by using analytics
Customisations of the contracts
Contract Abstraction
Creating a Contract database and maintaining the repository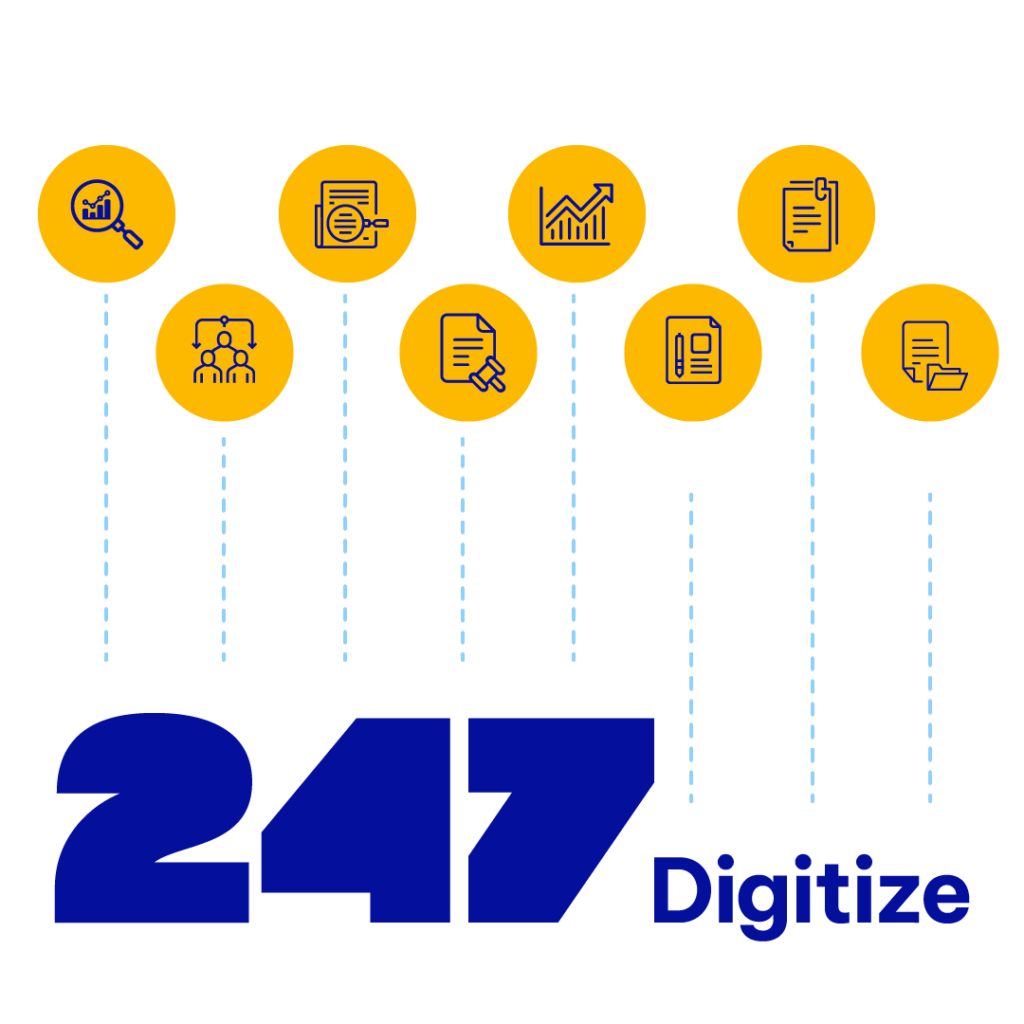 Quality & Accuracy: At 247Digitize, we believe that quality is at the heart of the trust and peace of mind we build with our clients. Our robust multitiered QC workflows guarantee the precision this work demands.
Data Security: Vigilance is an absolute must. 247Digitize has achieved the highest level of cyber security standards and is dedicated to keeping your data safe. Our facilities are ISO certified; HIPAA &GDPR compliant.
High-Performance Professionals: Customer satisfaction is the fuel that drives our experienced team in every project we take on.
Scalable Solutions: 247Digitize can quickly add manpower to augment in-house review capabilities or take it to an end without long-term investment in infrastructure.
Clear & Predictable Costs: The cost savings you would expect from an offshore provider with transparent and flexible models to suit your needs.
Our range of services includes:
Consolidation/Organization of contracts to one central repository
Abstraction of key terms/clauses
Organizational risk assessment
Contract Review – Report preparation & review subsets of contracts
Obligation Tracking
Redlining of Contracts
Identify & mitigate risk for contracts by tracking underlying obligations.
Review agreements to assess compliance with the terms & conditions.
Provide concise summaries of lengthy contracts to speed up the retrieval of key items.
Identification of contract population from the Data Room
Report generation for assigned & terminated contracts.
Identification of contracts that are pending negotiation or renewal.
Interested in our Contract Lifecycle Management Services?
Contact us. One of our experts will contact you within the next couple of hours.
247Digitize is not a law firm and does not provide any legal advice.