Meet 247digitize at the Acumatica Summit 2023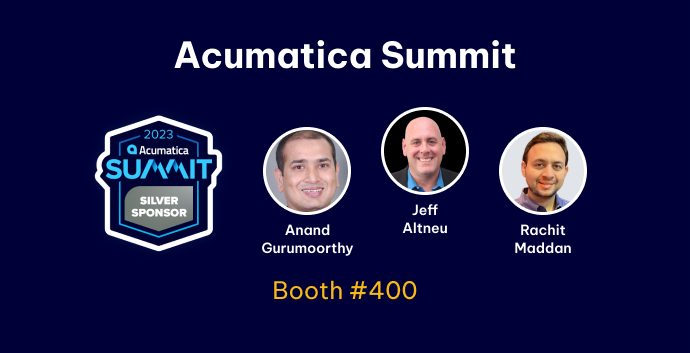 247Digitize is hitting the road! We'll be in sunny Las Vegas on January 29th at the Acumatica Summit. Join us for three days of networking, meeting customers, partners, and industry experts to learn about the latest developments in Acumatica. You can find our team in Booth 400, ready to show you how we can keep your financial records up to date and accurate within Acumatica's Financial Management solution.
Who Is 247Digitize?
247Digitize is an outsourcing and tech partner that optimizes and manages non-core processes so you can focus on growth. We are a team of accounting professionals trained and certified in Acumatica. Our information security management system has earned us an ISO 27001 certification. You can rest assured that your information will always be safe with us.
How We Help
Our Acumatica-trained bookkeepers help you take full advantage of Acumatica's Financial Management functions. We provide the following bookkeeping services:
General ledger maintenance
Accounts payable
Accounts receivable
Payroll management
Multi-currency management
Intercompany accounting
Deferred revenue accounting
Inventory management
Fixed assets management
Reporting
When you work with 247Digitize, you get a dedicated Account Manager to lead your bookkeeping team and act as your single point of contact to provide support and guidance every step of the way.
Meet Our Team
The 247Digitize leadership team will be on hand to share our expertise and explain the services we can provide so you can focus on growing your business and increasing revenue.
Anand Gurumoorthy – CEO
Anand has considerable experience growing and adding value to businesses by strategically matching corporate objectives to people, productive technologies, and solutions. Before 247Digitize, he was an M&A advisor at Deloitte. Anand has held leadership positions at Deloitte, Intellecap, QuisLex, and Socrates.
Jeff Altneu – VP, Sales
Jeff has experience in sales, sales management, and customer success. While earning his BA in Communication Studies at California State University, Long Beach, he also served honorably in the California Army National Guard. Throughout his career, he has been dedicated to building sales from the ground up and ensuring client success.
Rachit Maddan – Director, Business Development
Rachit holds a master's degree in International Business & Marketing. He has 11 years of experience in Business Development, Marketing & Account Management, with key strengths in client consultation on meeting their objectives through outsourcing, monitoring sales metrics, and managing the entire sales process, along with leading and motivating the sales team to achieve specific goals.
Enter The Raffles!
Our team looks forward to meeting you and discussing how we can help you leverage Acumatica for your business's financial operations. Not only will you discover the 247Digitize advantage, but you'll also have a chance to enter our raffles and win cash!
"Monday, January 30th, we will be drawing for a $200 cash prize at 3:00 pm PST
Tuesday, January 31st, you have a chance to win $300 in cash at 2:00 pm PST
Don't miss out on your chance to win! All you have to do is scan your summit badge and provide a business card to qualify. We look forward to seeing everyone!